Author/Mi Xiaoou Duo Fang's interview/Liu Ren
This article first appeared in "Chain Heroes" Full Media
October 2014. Huai'an Economic Development Zone, Jiangsu Province. Along a path, weeds on both sides. At the end, there is a row of bungalows. Into it, barely 6,000 Tube mining machines, 5P computing power, two vents before and after, this is Jiang Xinyu's new mine. Dig 450 Bitcoins a day, equivalent to about 24,804,000 RMB today. One month later, Jiang Xinyu flash marriage. Two months later, Jiang Xinyu disappeared. Nine months later, Hefei Intermediate People's Court ruled that Jiang Xinyu and Wang Hao were divorced. Since then, no one can find Jiang Xinyu.
Multifaceted roasting cats: genius, geek, reeling
Jiang Xinyu was born in Shaoyang, Hunan Province in 1986. Genius, geek, otaku, silk, thin and tall. Messy hair, a broken shirt, white shorts and black slippers. Drink Yi Bao mineral water, like a variety of food, still love crayfish. Spoken words, but often an export, hit the point directly, so that the audience was dumb. Reading books at a glance, believe in logical evidence, and reject Chinese medicine. Or bragging cows, for example, will be the "Game of the game" in the third quarter Ygritte should not take off, and arguing with people for a long time. Often bite nails bald, keyboard mouse dirty mess… Until now, his QQ signature still: Don't panic.
In 2001, 15 year old roasted cats, ranked 11th in national total score, were admitted to the Junior College of China University of Science and Technology from Shaoyang First Middle School in Hunan. In 2009, the 23-year-old roast cat took the paper "Use a formal method to construct a secure threading mechanism" and obtained a master's degree from China University of Science and Technology. In 2011, the roasted cat went to Yale to study and read Bo, and stopped school mid-way. He did not receive a doctorate. In the same year, he co-wrote "Translation of Code Optimization and Program Specification in the Proof Compiler" by David, a former student of the University of Science and Technology of China (Fan Dawei, who went to Shanghai after his master's degree), and published "Small Microcomputer System" in China. Journal No. 7 P1400-1405. At a time when the roast cat listened to David and talked about bitcoin, he began researching Nakamoto Shoji…
As a colleague of the roast cat in the HKUST laboratory, Lin Yu ( alias ) said, "He entered the lab and cooperated with me on the study and was a very cheerful and humorous child." Do not care about other people's views." The inner world is rich. "I have not seen him angry, nor have he seen any conflicts with him." In that senior year, the roast cat met Lin Yu at the China University of Science and Technology Campus Forum. "He is a fan of Scheme language. Later he liked the Haskell language and recommended it to David. They both had a good relationship at school."
On January 16, 2012, Bake Cat registered friedcat as its nickname at the bitcointalk.org forum. In June, the United States Butterfly Labs announced the manufacture of the Asic mining machine, which is said to launch the mining machine product in September, causing an upsurge in the mining of the Asic mining machine. On July 12, David registered Bitspring Information Technology Co., Ltd. in Shenzhen.
On August 7, 2012, Roasted Cat and David conducted an IPO (Now ICO) on the GLBSE Exchange, issuing the stock name Asicminer. The total share capital is 400,000 shares, 59% of which are held by Roast Cat Company ( Bitfountain). The issue price is 0.1 BTC/share and a total of 163,962 shares are issued. Calculated at the exchange rate at that time, raised about 1 million RMB. Wu Jihan and Xiao Qiang (Xie Jian, Rock Xie) both voted 1000 BTC. Both of them won 10,000 shares, plus 2,500 shares. On August 9th, roasted cats posted on bitcointalk: "ASIC MINER: Entering the Future of ASIC Mining by Inventing It", introducing roasting cat mining machines and responding to outside queries.
In "Roasting Cats: A Pioneering Trailer," the author Song Wanyu mentioned: "(Cooking Cat) shareholders enjoy 100% profit, and the power to re-invest in products to reduce stocks. Equity is directly linked to Bitcoin address Revenue generated from the sale of mining and mining hardware is paid every Wednesday through the owner's address."
On October 8, 2012, the GLBSE Exchange closed due to regulatory compliance issues. At the end of 2012, David called Wang Song… David is from Henan, and Wang Song is from Shenyang. The two met in the first reunification in Anhui. Wang Song at this time is in his hometown in Xiangyang. David did not mention the roasting cat to Wang Song. It was just "a vague mention of a project on the mining machine." At that time, "irrespective of whether or not to broil the cat or David", it was "standard science and engineering thinking, and I was relatively a bit market-oriented". Wang Song recalled.
8 Months: Rich, Myth, Disillusioned
In early 2013, Shenzhen Maple Leaf Pinyuan Apartment. David lived with Wang Song, and the roast cat lived with the solemn (now the head of the BTC.com mine pool). David tube product design. Wang Song purchases, supply chain and mines. Zhuang rewrite code. Roast cats are responsible for outbound investor relations. Several people stayed here for half a year. At this time, the roast cat 12.8G mining machine came out.
On February 18th, 2013, at noon 14:01:11, the roasting cat mining machine (ASICMiner wallet address: 1HtUGfbDcMzTeHWx2Dbgnhc6kYnj1Hp24i) started production of the first block, a total of 50 BTC.
April 2013, Shenzhen Gongming Street. Wang Song prepared to set up a "roasting cat factory" here. On the 23rd, near the science and technology park, he signed an agreement that "51 will be formally launched." Wang Song said, "Only half of the entire room (mining machine), accounting for 42% of the total network computing power." At this time, Avalon announced that it will focus on chip R&D (not shipped until September) and will no longer manufacture miners. However, the butterfly has not been able to deliver the product and the cat has begun to sell the spot USB mining machine and the blade mining machine. At the same time, the mining activities of roasted cats gradually withdrew from the major mining pools and began mining independently. Deployment maneuvers fluctuate between 30 T and 40 T.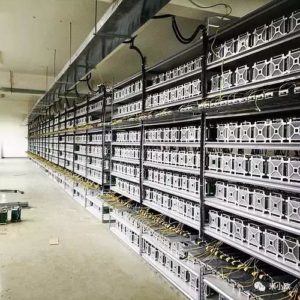 Grilling Cat Mine for a new generation of miners for the BE300 chip
In May 2013, the force market became the world of roasting cats. Due to the large computing power and concentration, Wang Song said that for two consecutive months: "Two panic attacks triggered 51% of the community's attacks." Compulsory, "We also take the machine to takeaway." However, "they only sell miners that are 20% of their total net power, because they set the target to maintain 20% of the entire network." Song Wanyu said in the article.
"At that time, the butterfly's Asic mining machine was just a piece of paper. While Avalon's mining machines were extremely efficient, their number was still small. The first three batches together only had a combined total of 1,500 units. There is a significant boost, but it does not pose a serious challenge to roast cats with considerable technical strength."
In 2013, Roast Cat's first-quarter financial report showed that a total of 67,515.09 BTC were paid for dividends. Paying for the number of dividends per share: On February 28, 0.023544 bitcoin, on March 6, it decreased to 0.019163 bitcoin, on March 20, it increased to 0.025998 bitcoin, March 24 to April 3, the amount of dividends Both are declining, with a minimum of 0.002556 per share dividend. Bitcoin will gradually increase its dividend distribution. On May 15, it rose to the highest point of 0.036222 bitcoin. On May 29, the dividend was 0.026538 bitcoin. At this time, the average price per cat is 2.5 bitcoins, which is 25 times more than the IPO.
On the first Wednesday of May 2013, Wang Song clearly remembered: "Take out more than 13,000 bitcoins" on that day. In June, the roast cat's stock price reached 3.4 BTC/share. At this point, the butterfly began to send orders for 2012. On June 7th, Amoy Bit announced to be the agent for roast cats in China.
On June 29, 2013, No. 200, Guoding East Road, Shanghai, a public training base for entrepreneurs. Xiao Qiang, Cao Xiaogang (The Early Shareholders of Roast Cat Company), Shenyu (Mao Shixing, now co-founder of CoBo), Bug Brother (Fang Xuchu, Roasted Cat Mining Machine) Earlier agents () and other friends within the circle gathered here. There were several PPTs played here, one of which introduced roast cats: English is good, technology is a house, all-rounder, reputation, investment perspective, pragmatism.
In July 2013, Avalon sent orders for 10,000 chips to Switzerland. At this point, the roast cat's stock price rose to 5 BTC/shares, and the stock's return was more than 500 times. It distributed approximately 140,000 BTCs to shareholders, and the peak power reached 47 T.
In August 2013, Avalon sent another batch of orders. At this point, the roast cat sold 20,000 yuan, ready to develop 40nm-class chips.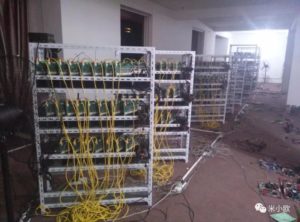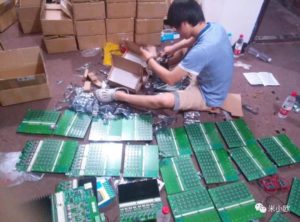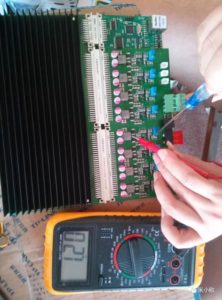 August 31, 2013, Roasted Cat Shenzhen Mines. At one glance, seven shelves were standing side by side. Each rack was equipped with a blade server (Blade Server) and all were connected with a yellow network cable. On both sides of the shelf, it is a large vertical fan and is blowing against the shelf. At the other end of the room, it was a newly opened blade, and it was placed horizontally. Insect Brother and Alex (Lin Zhipeng, co-founder of the original ROCKMINER Xiaoqiang mining machine) are adjusting the 8-channel voltage of the cat machine. "The roast cat felt that it was a geek who did the mining. He intentionally exposed the chip, and he had to manually adjust the voltage along the way." Every turn has to go 20 laps, one blade has to go 160 laps and on that day they turn 20,000 turns. "Only the voltage can be adjusted to minimize power consumption." The roast cat "never thinks this is a commodity", but "a geek toy, a big toy".
In September 2013, Avalon began sending orders on a large scale and 800,000 chips were all sent. According to records of Cao Xiaogang's visit, Roasted Cat is setting up a liquid-cooled ore plant in Hong Kong at this time. "The best cooling machines and pumps were purchased from mainland China and installed on rooftops by cranes. By October, the room had begun to export. Forget it."
On Oct. 14, 2013, the Bit Springs Bulletin showed that the total computing power of grilled cats is only 71 TH/S, which is only less than 4% of the whole network. Wang Song recalls that at the time Ukraine also had a GHash mining machine, which was eight times more powerful than roast cats and used 55 nm technology. At about the same time, shareholder Wu Jihan left, and then he founded the Ant Mine Machine. The Antminer S1 also used 55nm technology. After some internal discussion, the roasted cat mining machine uses 40nm class. Afterwards, the ants were on the 28nm level. Others like the KMC, Avalon, the butterfly, and the core move all came close together. After software simulation tests, the second generation chip of Bake Cat R&D was produced, but there was no mass production. "Our 40nm class has already achieved what others call the 28nm class." "The same power consumption, the ant force is a T, we are more than two T." "Ocean Interviews" disclosed that Roasted Cat "has carried out three generations of research and development at the same time as the second generation of R & D, and may use about 28 nm."
Mystery: Huai'an, Flash Wedding, Missing
At the beginning of 2014, Roasted Cat's 40nm-level technology filming announced the successful development of the third-generation chip. At the end of April, the samples arrived. In May, roast cats began selling chips. At that time, Xiao Qiang's mining machine, Zhao Dong (Ink and Co-Founder ), a miner, a garden miner, etc. At the end of June, Zhao Dong mass-produced the first roast cat chip mining machine in the industry. In July, the roast cat prepared for the next-generation chip's R&D, but didn't do a lot of filming. Instead, it made an MPW and tested the chip. In August, small shareholders on the Internet questioned the posting of long-term payouts for roast cats.
The salesperson of the cat team sales Sun Xiao's novel: "In 2014, due to the delay of the roasting of the cat chip, when his mining machine was launched, it was faced with relatively large marketing pressure, and in fact the sales situation. , when I was involved in the team sales, it was not ideal." Mining is a matter of racing against time, especially after "delayed, there is no such big advantage."
September 2014. Jun Yi (According to Bug Brothers, he is the middleman who introduced the roasted cats and the Huai'an mines and also catered on roast cats' products.) Recommended Roast Cats to recognize Lin Qingxin, Lin is a Fujianese, "known as the Shuanghui Group The shareholders, meeting for the first time, Lin Qingxin took the flight license on the table. Say that you can help roast cats build a new mine in Huai'an. "In the name of cold storage, you can enjoy subsidies from the Jiangsu provincial government." The agreement is: roasted cats pay the electricity fee first, and Lin Qingxin takes the spot plus 4 cents for electricity. At the time, "we put 6,000 machines into it." Later, the problem came, Wang Song said, "It is not a design problem, not a process problem," but Nantong Fujitsu, when the chip package, "their packaging technology is not good." In the chip, there is "air between gel and mount." When heated, it expands and "the chip will burst."
In October 2014, the roast cat and Princess Wang completed the premarital examination at Hefei Baohe District Maternal and Child Health Station. marry.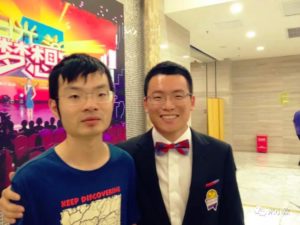 Saturday, November 1, 2014, Shenzhen, Roast Cat and Michael Su
In January 2015, roasted cats got 40nm chips. But the mine had a problem. Wang Song said, "He (Lin Qingxin) changed our account number to his own," and hijacked the calculations. The cats used to coordinate and were confiscated. Later, the company went for a few more appointments. "We also sent a lawyer's letter. They ignored it." The alarm was also ignored. The other party's attitude was even more arrogant. "There were dozens of social idlers from the local area and we were surrounded in the middle" and said, "If you dare touch me, you just hit me…".
At this time, the competitor's calculations soared and the ants S5 was madly shipped. In Ya'an, Sichuan, a 25,000-kilowatt mine was landed. And "we ship goods while repairing the mine." In those days, every day, investors came to the door and asked: "How long has it been, how have the stock still not dividends?" Wang Song recalls. The roast cat team plans to abandon Huai'an and prepare to go to Sweden to find a mine. Passport tickets are all running well. They are about to go and the roast cats are missing…
The police … … file … … start the investigation … … no effect.
The bitcointalk forum shows that the last time the roast cat logged in was January 26, 2015.
After missing: saliva, suspicion, legend
On February 28, 2015, AMHash ( was Roasted Cat Company commissioned Xiaoqiang Company to be responsible for sales and to distribute cloud computing power to a roasting cat) and posted an announcement in English on the bitcointalk forum. Announcement of AMHash Dividends Suspending", stop dividends.
On the evening of March 3, 2015, Babbitt Internet users called the "Yon_Wu" netizen posting: "The legendary figure in the currency sector may suffer unexpected events". Point out that in the three bitcoin addresses of the roast cats, within a few minutes, "19,000 was transferred! The value is 30 million!". And expose the three bitcoin addresses of roasting cats:
15h6A2a3D31vRviBDdSpvhLtYJq3aePhdW

1HgTJED7XEGy4vVwKa8kgefWqUB3VRX2mW

1BnkEt2ceoVhnQVrqeAzigcroQ6MVyxFey
In the early morning of March 4, Zhao Dong was at the WeChat Technology WeChat Group, claiming that "there was contact with Huai'an" and "it was okay to say that the cat was okay". On the same day, Bitquan Company's office in Shenzhen Coast City, people went to the building and employees declared that they were moving.
On March 11, David officially announced in the bitcointalk forum in the name of ASIC MINER Management that the cat was missing. "Friedcat went missing and this caused an interruption with the business."
On March 12, Xiaoqiang wrote "The last time I talk about AMHash": "I don't believe that roast cats are subjectively evading, but the objective fact that he disappeared has already caused harm to many people, including me."
After 6 months…
On October 15, 2015, Hefei Intermediate People's Court decided to divorce the roast cat and Wang Hao.
Two years later…
On August 5, 2017, Bitcoin86.com sent a message: "The top ten unsolved mysteries of the currency circle – Where did the roast cat go? Recently there was a big move." The article said: "July 29, August 4, two purse accounts roasted cats, there are 5 transfer records. A total of 17,597 BTC transferred." This is equivalent to about 967,835,000 RMB today.
On November 7, 2017, the documentary "Bitcoin Shape the Future", at 26 minutes 58 seconds, Wu Jinhan said: "The roast cat, told me in the middle of communicating with me, can do ASIC chip to carry out mining It should be said that the roast cat brought me into the industry of mining." When asked if he could talk about why the roast cat quitted the coin circle, Wu Jizhong's face sank and he murmured, "I don't want to answer…". Wu put his eyes down: "Because of some reasons at the time, this is a problem within the team." "I don't want to talk too much. My only choice is to be a company…". Wu Jihan looked at the camera with no expression on his face and said nod.
On March 21, 2018, someone replied in "ASIC MINER: Entering the Future of ASIC Mining by Inventing It": "Old Story, ASICMINER was a company where the owner disappeared leaving investors down…"
On April 21, 2018, at 01:51:22 in the morning, the roasted cat mining machine produced 0.0000273 BTC, and the cumulative output was 139,888.96039648 BTC.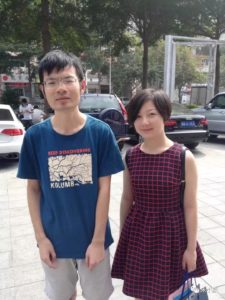 In the summer of 2014, Roasted Cat and Captuccid Chief Editor Turtle
Until now, the police still monitor the roast cat's identity card and passport, but no progress has been made. Lin Yu believes that "roasting cats will not hide for money". Jun Yi said, "He is low-key for people, he is not involved in domestic currency circles and activities except for community communication and information disclosure." From "not taking the initiative, he should have no time to chat with people", "Most people will feel that others are good Many people can confirm this."
Lu Tong, a poet of the Tang Dynasty, once wrote in the book "The Four Ancients" and said, "What is life is expensive and what you have is the beginning. Yesterday's surplus ruler, the present is to abandon… don't sleep, believe it! The mirror is not self-illuminated, and the cream moistens itself to fry. The sword holds a long time and tears fall before the autumn wind…". Jiang Xinyu called "Goose" in watercress and stated: "This is the best time," and he introduced himself to "sell with his life." The current Douban prompt: "The account has security risks, has been temporarily locked protection." Click on "why the account will be locked" and open it blank.
Postscript: Three people
The cat disappeared and it was ten million. Personally think that, most importantly, there are three people.
一、王娴。
In Shenzhen in 2013, the cat was forced to fire and the cat bought a house in Shenzhen. In October 2014, we had a flash marriage with a roast cat. The cat was missing in January 2015. In October, Wang sued for divorce through the court. Liu Ren firmly believes that the roast cat did not die, even if it is a premarital property, even if it is a premarital property, if the person dies, the court will "default that it is the joint property of the husband and wife" and "the wife is the first heir."
Reporter Liu Xia's "Looking for a Cat" article, she said she found a roasting cat mother. See her first sentence: "Do you have contact with Jiang Xinyu?"
Second, David.
David and the roast cat are students of the University of Science and Technology. Both are science and engineering geeks. The roast cat touched Bitcoin, which David told him. Registering Bitsprings is David's idea. The company is located in Shenzhen and is also the main owner of David. Baked cats are typically bad words, but David allowed him to work as an outside investor.
Now David, who went abroad to study, did not see anyone and refused to talk about roasting cats.
Three, Wu avoid cold.
Wu Ji Han also said in an online public profile: "A well-deserved palace figure in the currency circle, graduated from Peking University with a dual degree in psychology and economics. The industry's acknowledged bitcoin evangelists have been exposed since 2011. Bitcoin founded Babbit together with Nagase and others, and later founded Bitcoin, a mining chip company.
In this introduction, Wu Jinhan did not mention roasting cats. But when talking privately about roasting cats, Wu Jihan often has choking.